(Last Updated On: June 26, 2023)
49 Scammer Nigerian Gang Taken Down
By SCARS Editorial Team – Society of Citizens Against Relationship Scams Inc.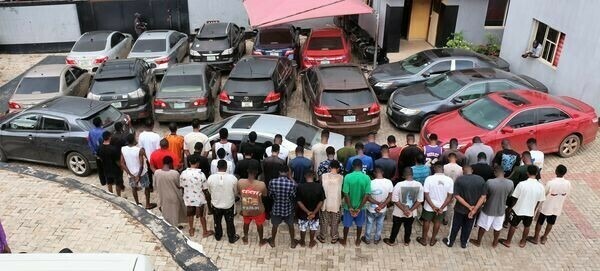 49 Scammers Arrested In Another Major Raid In Nigeria – Another Gang Taken Down
The Nigerian Economic and Financial Crime Commission (EFCC) Arrests 49 Internet Fraud Suspects in Ekiti, Oyo, Nigeria
In a typical week, the Nigerian EFCC is taking down 2-3 small-medium-sized gangs a week. Unfortunately, almost never large-scale organizations.
Operatives of the Ibadan, Nigeria Zonal Command of the Economic and Financial Crimes Commission, EFCC, have arrested 47 (forty-seven) suspected internet fraudsters, plus 2 others – 49 total
The Nigerian suspects were arrested at Ikere Road and Iworoko areas of Ado-Ekiti, Ekiti State following intelligence on their alleged cyber fraud activities in the State.
The Nigerian suspects are Adeyemi Joshua Adeniran, Ajaye Redmond Damilare, Nwaji Mathew, Jegede Boluwaji Victor, Oyetunji Sunday Wole, Damilola Awopetu Ayomide, Ajayi Temitope Ayomide, Babajide Adebisi Victor, Balogun Precious Akinwale, Obie Jacob Onatakaroma, Olonitola Olamilekan, Ajewole Ojo Kayode, Aina Toluwani Emmanuel, Adebayo Akinwumi Oluwadamilare, Omowaye Oluwatosin Olamilekan, Oyewale Francis Oyomilekan, Arowolo Ayomide Gift, Shotonwa Babatunde Omotoyosi, Ochochie Silas Ochola, Ojo Seyitan David, Onile Ayodeji Raphael, and Abiodun Oluwatosin Opeyemi.
Others are: Adebayo Gbenga Musbau, Oyebade Ayomide Olamide, Egunjobi Samuel Gbenga, Oladokun Toheeb Adeko Save la, Adesola Benjamin Adebowale, Edamisan Olakunle, Adesola Isaac Babatunde, Oyewole Gideon David, Lawal Tosimile Moses, Adeleke Adekunle Samson, Oladiti Abiodun Akanji, Ajayi Charles Temitayo, Adeyemi Oluwasegun Adeboye, Ernest Solomon Temitope and Atoun Olalekan Timilehin.
The rest are: Olorunyomi Sina Ayo, Babatunde Emmanuel Babalola, Yusuf Saka Olaoluwatobi, Falaye Babatunde Temitope, Ilesanmi Damilola Ayomide, Badmus Yusuf Omobolaji, Komolafe Emmanuel Feranmi, Babajide Adebisi Victor, Adamolekun Olamiji and Oshatimi Samuel Omoniyi.
In a related Nigerian development, the Oyo State Command of the Nigerian Police arrested and handed over two cybercrime suspects, Emiola Usman, and Kamorudeen Quayum, to the Ibadan Zonal Command of the EFCC, for further investigation.
Items recovered from the suspects include fifteen (15) exotic cars, sixteen (16) laptops, seventy-seven (77) mobile phones, and other incriminating documents, among others.
The suspects will be charged in Nigerian court as soon as the investigations are concluded.
PHOTO: Shows criminals arrested and cars seized
SCARS NOTE: The Nigerians typically only charge each criminal once – for a single victim – ignoring all of the other victims of these criminals. This is to simplify their own investigation, arraignment, and trial process. This neither brings justice for the victims nor makes the criminals account for the extreme pain and harm they have caused. The result is usually very short prison sentences or even community services since most are not viewed as serial criminals but just first-time offenders.
SCARS NOTE: Sadly all money and assets seized will be turned over to the Nigerian Treasury, and no money will be returned to victims. Also, sentences reflect the absence of victim participation in the sentencing process.